Starting Financial Education Early
The Issue
Basic financial education is a necessity in the modern world. When people understand money matters, they are better equipped to make good decisions and put themselves on a more solid financial footing.
Yet, the understanding of financial matters in the United States is often lacking. The latest FINRA Foundation National Capability Study reveals some troubling statistics:
66% of American adults cannot pass a basic financial literacy quiz.
More than 40% lack retirement accounts.
Fewer than 50% have emergency savings.
Fewer than 30% have financial plans in place.
Fewer than 20% use the continuing services of financial professionals.


NAIFA Position
NAIFA strongly supports state requirements for public high school students to complete personal finance coursework prior to graduation. Starting financial education in high school gives students a leg up and will help them make better financial decisions when they enter the workforce. High school personal finance courses may also inspire some students to pursue financial services as a career.
NAIFA chapters are actively promoting financial curriculum requirements in their states. Currently, 23 states have passed measures to require public high school students to take a one-credit personal finance course prior to graduation. Eight of these have requirements in place, and 15 have begun the implementation process. As of May 25, 2023, there are 16 states with active legislation to add a standalone semester-long personal finance course to high school graduation requirements.
Personal Finance By State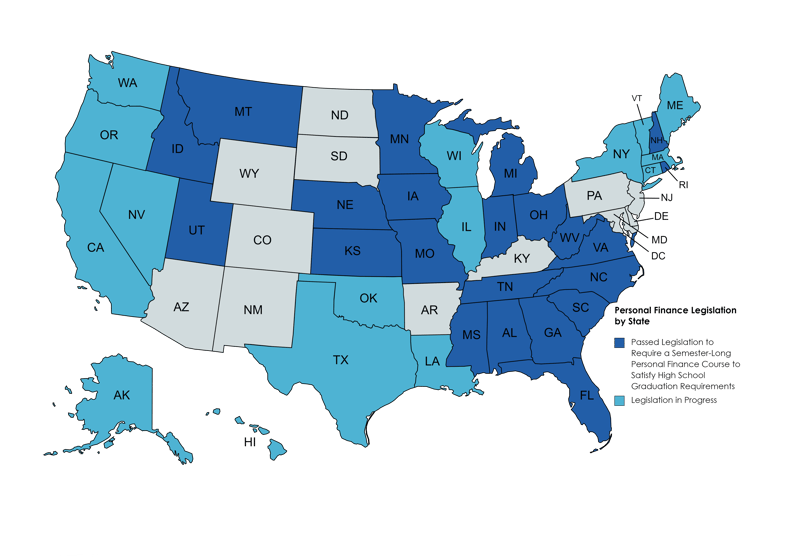 Resources
NAIFA's Advocacy in Action Blog