2021 NAIFA Workforce Survey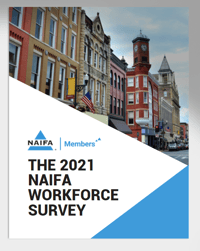 Legislators at the federal and state levels always want to better understand the constituent populations that they respectively serve. To help us better inform our stakeholders, please tell us about your own practice or organization within which you work.
---
2020 Survey Results
NAIFA surveyed 1,071 insurance and financial professionals, approximately 90% of whom are current NAIFA members. The respondents who are not members engaged with members via the NAIFA web presence, social media, NAIFA webinars or other communications channels.
The responses were collected during June and July of 2020. The survey provides insights into respondents' professional experience, client characteristics, products and services, compensation models, social media usage and group demographics. A series of survey questions also explored how the COVID-19 pandemic has affected these financial professionals and their interactions with clients.
NAIFA members and their colleagues fill the insurance and financial services needs of Americans from every economic demographic and all income levels, with an emphasis on middle-income families and small businesses. The survey results confirm these financial professionals' grounding in what NAIFA has termed "Main Street USA."