State lawmakers across the country are grappling with different solutions to quell business owners' fears of legal liability as the pandemic threatens to loom for many months yet to come. NAIFA is encouraging lawmakers to pass bills that would enact liability immunity for businesses to protect them from a barrage of civil lawsuits related to the exposure to COVID-19.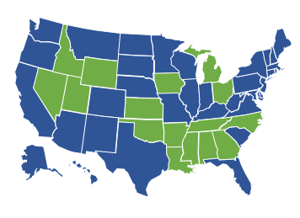 Twelve states have put in place some type of COVID-19 liability shield: AL, AR, GA, ID, IA, KS, LA, MI, MS, NV, NC, OH, OK, TN, UT, and WY. The shields vary from state to state; however, all share the standard three features, according to the Chicago-based law firm Seyfarth Shaw LLP:
They protect businesses (as well as their employees) from civil suits related to actual or potential exposure to COVID-19;
They do not protect willful, reckless, intentional, or grossly negligent misconduct; and
They do not prevent employees from filing workers' compensation claims related to actual or potential workplace exposure to COVID-19.
Key differences between the state shields include how high the bar is set on filing, heightened proof, consideration of a business's good faith to comply with public health guidance, and the difference of limitations on damages.
Many states not on this list are currently considering their own liability bills. Below is NAIFA's State Tracker on the myriad of COVID-19 liability legislation introduced this past legislative session.
On the federal side of the liability shield debate, Republicans introduced S.4317, the SAFE TO WORK Act on July 27, 2020. The act would create a safe harbor, retroactive to December 2019 and in effect for five years, if:
Reasonable efforts are taken to comply with applicable government standards and guidance in effect at the time, and

The individual or entity did not engage in gross negligence or willful misconduct in responding to the COVID-19 pandemic.
Under this liability shield, the Act would provide an exclusive federal cause of action for COVID-19 exposure lawsuits and preempt any less strict state or tribal laws in place. It would not, however, preempt stricter limits on damages or liabilities for personal injury provided by state laws.
The SAFE TO WORK Act would provide for the following provisions:
Help those essential businesses that have remained open to stay open, and help other businesses to reopen safely and without fear so that American workers can earn paychecks;
Assist schools, colleges, and universities with reopening in the fall so that America's students can resume their educations;
Encourage and protect workers who return to their jobs by rewarding compliance with coronavirus-related public health guidelines;
Provide uniformity and predictability for good actors; and
Ensure that bad-faith actors are held accountable for coronavirus-related related injuries.
On September 30, Senate Majority Leader Mitch McConnell (R-KY) introduced S. 4775, the Delivering Immediate Relief to America's Families, Schools and Small Businesses Act, which serves as a greater COVID relief bill that includes the primary tenets of the SAFE TO WORK Act.
Specifically, it limits a plaintiff's right to sue under the following three conditions:
In engaging in the businesses, services, activities, or accommodations, the individual or entity was not making reasonable efforts in light of all the circumstances to comply with the applicable government standards and guidance in effect at the time of the actual, alleged, feared, or potential for exposure to coronavirus;
The individual or entity engaged in gross negligence or willful misconduct that caused an actual exposure to coronavirus; and
The actual exposure to coronavirus caused the personal injury of the plaintiff.
The language found in these two bills is partisan, with Republicans insisting on a liability shield inclusion in any further COVID relief package. It's likely that if liability shield protection would be included in a relief package, final language would have to first go through revisions to secure support from Democrats.