NAIFA Trustee Christopher Gandy, LACP, loyal member since 2003 and Founder of Midwest Legacy Group, said during a "Diversity, Equity, and Inclusion in Producer Licensing," panel discussion at the National Association of Insurance Commissioners (NAIC) 2022 Insurance Summit that he faced many challenges as an African American breaking into the insurance and financial services industry.
But providing financial security for all Americans requires making sure that they have access to financial professionals from all communities. The industry needs to expand the diversity in its ranks at all levels to make that happen.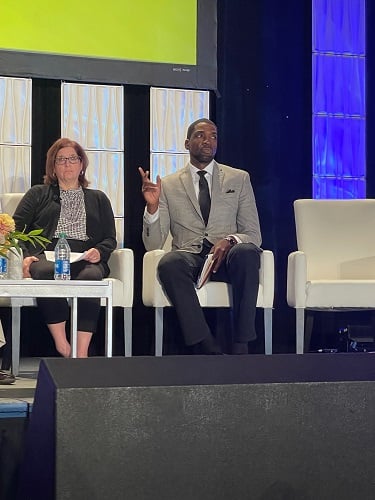 NAIFA Trustee Christopher Gandy
"The salesforce inside the insurance industry does not look like the community it serves," Gandy said. "The hardest thing to do is to educate people about products and services they don't even know exist."
"The insurance industry is accessible to everyone, however top leadership cannot look like what it looks like now," he added. "It is attracting people to a process that is broken."
It comes down to "building bridges, not barriers," he said.
Gandy is actively involved with NAIFA efforts to recruit, encourage, and support the next generation of agents and advisors. As an industry veteran and thought leader, he participates in NAIFA's Future Leaders program, which partners with colleges and universities around the country to encourage students to consider careers in insurance and financial services.
He represented NAIFA along with his carrier company OneAmerica, at The American College's 2022 Conference of African American Financial Professionals, where he connected with Alabama A&M University student Mitrick "T.J." Johnson, who received a NAIFA scholarship to attend the event.
Gandy told the NAIC Insurance Summit that emphasizing diversity is important when recruiting the next generation of financial professionals. College graduates from all communities have attributes that make them strong candidates to be agents and advisors.
"College graduates are more entrepreneurial now," he said. "They are less corporate and more creative. Building your practice and being successful requires a creative entrepreneurial spirit."
Gandy emphasized that insurance producers are "community people." They are active in their communities and by the nature of their business are closely connected to families and businesses in their communities. To serve all communities, he said, financial professionals need to be drawn from those same communities.