NAIFA is a strong proponent of the Congressional Financial Literacy and Wealth Creation Caucus and has urged members of Congress to join during the Congressional Conference and In-District Meetings earlier this year. The bipartisan caucus raises issues important to NAIFA members and consumers they serve in the consciousness of lawmakers. Its members are legislators "committed to empowering Americans with the tools needed to build wealth and achieve financial stability."
On October 19, the caucus hosted an event, "The State of Financial Literacy and Wealth in the U.S.," hosted by Representatives Joyce Beatty and Young Kim, the co-chairs of the caucus. Participants discussed the current status of the financial well-being of American households and talked about the importance of educating both the youth but also all Americans on how to be more financially secure.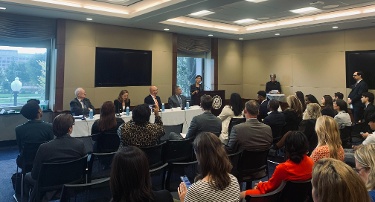 A recent report released by the FINRA Foundation studied the effects of math and personal finance education on the financial situations of U.S. adults and found that those with higher levels of knowledge in both are more likely to engage in positive financial behaviors, like "owning a savings account, having a plan for saving, owning a taxable investment account, and owning a retirement account."
NAIFA supports government initiatives to improve financial education, including state-level requirements that high school students complete a personal finance course prior to graduation. Insurance and financial advisors also serve an important role in educating the American public and helping to increase personal finance knowledge among their clients and in their communities.