When we think of the In-District Meetings NAIFA promotes each August, we usually think of get-togethers at district offices with federal lawmakers or their staff. But really, they can take all shapes and forms.
Members of NAIFA-WI, for example, recently met Wisconsin State Senator John Jagler at a Lake Country DockHounds baseball game in Oconomowoc. NAIFA-WI member Mike Smith, LUTCF, CLTC, LACP, reports that it was a nice event and NAIFA members had a chance to talk to the Senator twice that evening. They discussed a pending state bill that would require high school students to take a personal finance course prior to graduation.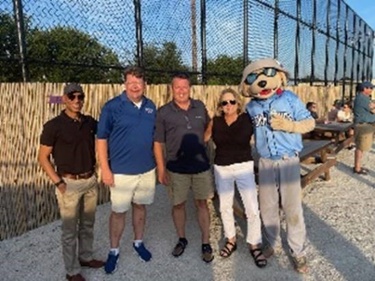 Left to right: Daniel Ward; WI State Senator John Jagler; Mike Smith; Sherri Mitchell, Louie B Sluggin.