NAIFA's Nebraska chapter has been a strong advocate for the life insurance industry, working with state officials to proclaim September Life Insurance Awareness Month (LIAM) in the state. Their efforts were successful and several members of the association were on hand at the ceremony when Governor Jim Pillen issued the proclamation.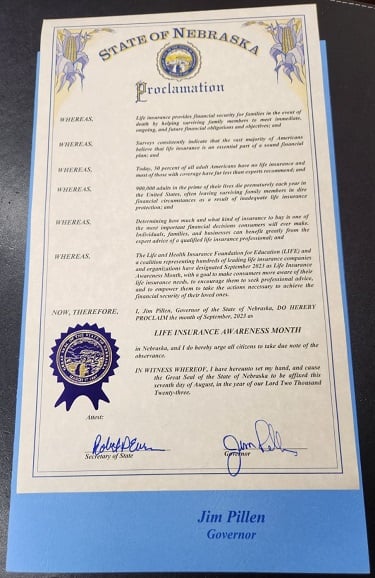 NAIFA-NE President Tanya Patzner made a statement at the ceremony thanking the Governor and emphasizing the important role life insurance plays in Nebraskans' and Americans' financial freedom. She also talked about the importance of raising life insurance awareness.
"Yes, the need for awareness is real, but our real hope with the Proclamation is to make the awareness personal," Patzner said. "Insurance is a unique product that we buy but hope we will never need to use. However, as we all know, life can be unexpected. We all need to consider the opportunity we have today to provide for tomorrow for those who matter most in our lives."
NAIFA works with our partner Life Happens to recognize each September as Life Insurance Awareness Month. Watch for NAIFA's online content and social media posts leading up to LIAM and throughout September to promote LIAM and raise awareness among agents and advisors, the media, policymakers, and consumers.
In the proclamation ceremony photo (l to r): Nebraska Director of Insurance Eric Dunning, Nebraska Insurance Federation Executive Director Robert Bell, NAIFA member Mike Herring, NAIFA member Ron Morss, NAIFA-NE President Tanya Patzner, Governor Jim Pillen, NAIFA member Lisa Hatterman, NAIFA member Dustin Will, NAIFA member Doug Hoops, and NAIFA member Jack Hawk.